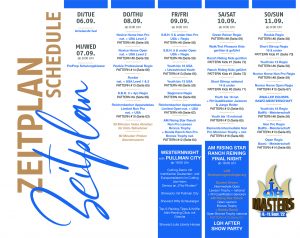 Tickets unter :
Morgen beginnt in Bitz das $ 30.000-added dotierte LQH Reining Masters. 140 PferdReiter-Kombinationen werden am Start sein. Den Auftakt bilden morgen die Klassen
Novice Horse Open und Non Pro, die Rookie Professional, die Rookie L1 und L2 sowie
die Reichenbacher Apparatebau Limited Non Pro.
Das LQH Masters 2022 findet vom 8. bis 11. September statt und bietet unter anderem
Europas größte NRHA Open Klasse an, die mit $ 15.000-added dotierte AM RISING
STAR RANCH NRHA Open. Aber auch weitere hochdotierte Klassen sind an dem
Wochenende vorzufinden: die $ 5.000-added QUARTER DREAM Intermediate Open,
die $ 1.800-added ELEMENTA Intermediate Non Pro sowie die € 1.100-added BONDA
RANCH Open Bronze Trophy nat. Nicht zu vergessen die $ 4.800-added AM RISING
STAR RANCH Non Pro, deren Champion zusätzlich einen Handmade Trophy Sattel
von Hannes Wilk erhält.
Doch nicht nur die Teilnehmer erwartet ein wahres Festival des Reiningsports, sondern auch
die Zuschauer. Das Programm am Freitag wird mit LQH Kooperationspartner Pullman City
Bayern durchgeführt. Pullman City wird sich an diesen Tagen auch um die jüngste Western
Fans kümmern. Auf die Kids warten unter anderem Kinderschminken, Lasso werfen mit dem
Lassomeister Leo Holknecht, Goldschürfen und vieles mehr. Damit wird das LQH Masters
wieder zu einem Fest für die ganze Familie. Für das leibliche Wohl ist selbstverständlich
gesorgt!
Tolle Show Acts erwarten die Zuschauer in der Western-Shownight, allen voran die
Vorführungen der beiden Europa- und Deutschen Meister im Reining und Cutting, Grischa
Ludwig und Ute Holm. Aber auch weitere Showacts aus ganz Deutschland, die schöne
Hunde- und Pferdedemos aufführen, lassen auf einen kurzweiligen Abend hinfiebern.
Das spektakuläre Finale in der mit $ 15.000-added dotierten AM RISING STAR RANCH
Lawson Trophy Open findet am Samstag in der großen AM RISISNG STAR RANCH Final
Night statt. Dann wird auch die Decksprungversteigerung von acht hervorragenden tollen
Reininghengsten durchgeführt:
* Gunnit in Hollywood
* Spat Split And White
* Smokin Gold Gun
* Modern Gun
* Walla Whiz Crome
* Mr Ricochet
* West Coast Trash
* Spooks Of Genius
Im Anschluss an die Decksprungversteigerung folgt die legendäre LQH Aftershowparty. An
der LQH Bar warten dann tolle Cocktails und Getränke, organisiert durch Johannes Wilk.
Für Besucher ist der Eintritt beim LQH Masters 2002 während des Tages frei, für die
zwei kostenpflichtigen Abendveranstaltungen allerdings ist eine Voranmeldung
obligatorisch. Tickets für die Abendshows gibt es auf www.lqh-masters.de.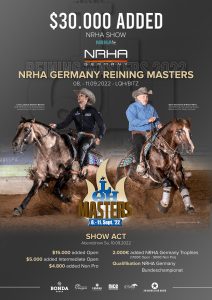 2022 Zeitplan NRHA Reining Masters